Gender reveal ideas-Congratulations on your new bundle of joy! Here are 50 exciting gender reveal ideas. There are some ideas on fun gender reveals for your new baby boy or girl. It's an exciting time and there are many decisions to make. Will you host a gender reveal party with refreshments, entertainment, and games. Our scratch off stickers are the perfect addition to add excitement to the party- fun scratch off ideas.
Look at these simple ways to celebrate your baby's gender reveal! Is it a boy or a girl? If you are looking for simple and easy baby reveal ideas, these cute stickers are scratch offs! So much fun for everyone, you can even mail them to your family and friends.
You can use these cute stickers to make your own scratch off cards. It's fun to get the whole family involved in the excitement of the new baby arriving. It's easy to keep it simple and easy with this sticker idea for your baby reveal ideas. You can use zoom or facetime to have your own virtual baby shower. Let the whole long distance family in on if it is a boy or a girl!
To make your fun gender reveals, you will need cardstock, printer, scissors and scratch off stickers. We offer free scratch off templates or you can design your own. To use our printable template, save to your computer and open up in your favorite graphics design program. We love to use Canva to add little details such as due date, parent's names. Once your card is designed, its time to print, cut and apply your gender reveal scratch off cards. It's really that easy.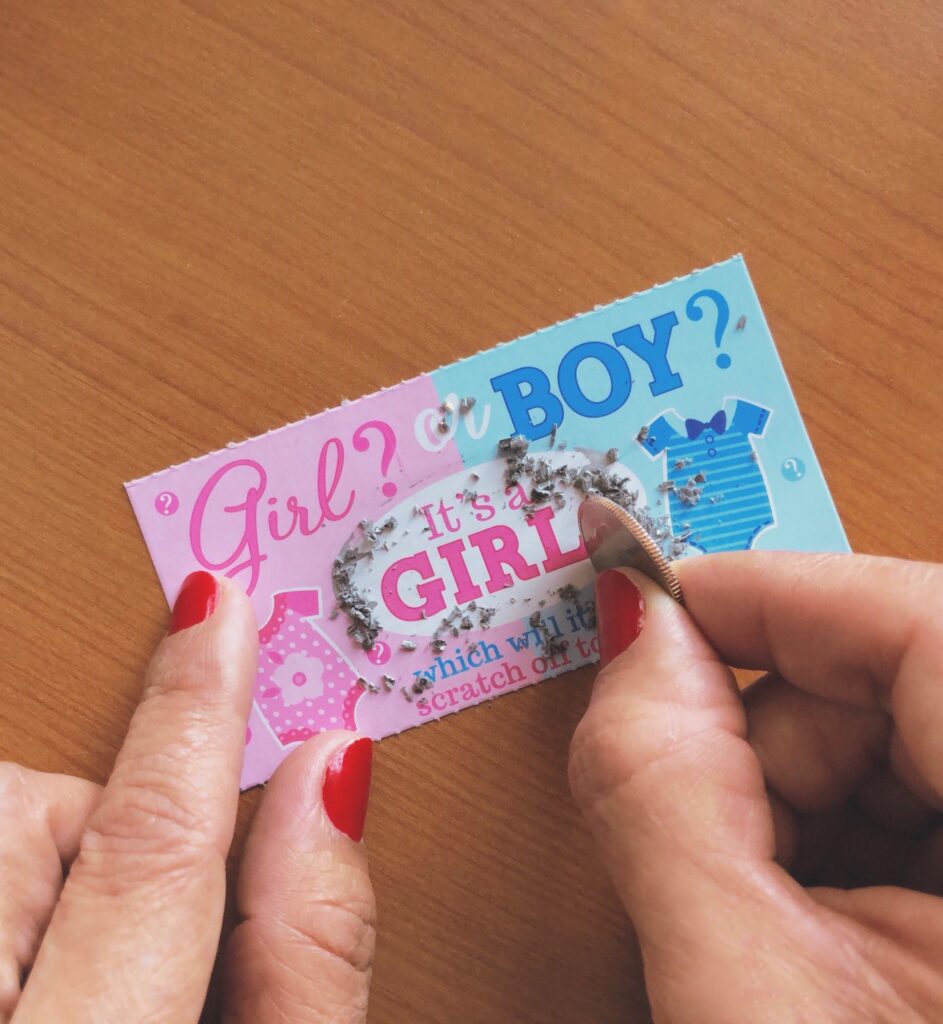 What gender reveal theme will you use?
There are so many to choose from.
Here are just a few exciting themed gender reveal ideas:
1. Opposing color- pink or blue
2. Baby boy bow tie or baby girl hair bow.
3.He or She
4.Prince or Princess
5. Boy or Girl
6. Tractors or Tiaras
7. Prince or Princess
8.Team Pink or Blue
9. Little man or little miss
10. He or she
11.Tutus or Touchdowns
12. Buck or Doe
13. Little Mister or Little sister
14. Guns or Glitter
15.Wheels or Heels
16. Staches or Lashes
17. Little Man or Little Miss
18. Cowboy or Cowgirl
19. Rifles or Ruffles
20. Cupcake or Stud Muffin
21. A baby is brewing- with a ghost and a witch
22.What will our little pumpkin be?
23. What will it bee -using bees
24. What's in the oven?
25. What's the bun in the oven?
26. Quarter back or cheerleader
27. Nuts or no nuts-using M&M candy
28. Hershey's theme- Highlight Her, or Highlight HE
30, Waddle it be- a little penguin gender party.
31. Cotton candy- pink or blue
32. Ballons- pink or blue
33. Little Be Peep- Little Jack Corner
34. What the duck is it- using pink and blue ducks
35. Pink fish, blue fish
36. Sugar and Spice or Slugs and snails
37. Guns or Roses -musical theme or use guns and roses
38. Pistols and Pearls
39. How we wonder what you are- using starts to decorate
40. Boots or Bows
41. Mickey or Minnie Mouse
42. Bells or balls- using ornaments and bells for the Christmas season.
43. Donut theme- We do NUT know- using different donuts. You could use colored sprinkles for boy or girl.
44. Waddle it be? -using turkeys for a Thanksgiving theme
45. Boo or Ghoul-Halloween theme
46. He or She- light up to see -use light sabers to light up
47. Glow in the dark glow sticks- pink or blue- usually found at the dollar store.
48. Witch or Wizard- Halloween theme fun gender reveal ideas
49. Boots or Heels
50. Ties or Tutus
51. Butterflies or Dragonflies
52. Here for the sex, using pink or blue
53. Beards or bows

Once you have picked your gender reveal theme for your party, it's time to pick the colors for you party. Will you go with traditional pink and blue, if so what shade of pink and blue? Or would you rather use a more gender neutral color such as pale yellow and light hunter green? Teal and turquoise as well as light blues and brows are popular for gender reveals.
The sky is the limit on picking out your colors. Lucky for you our scratch off stickers match ALL the colors of the rainbow. Silver, Gold and holograms are our most popular sellers. The hologram scratch off stickers glisten and reflect the light around them.

To host your own gender reveal scratch off party, you will need games, entertainment, food and a party theme. There are many to choose from, pinterest if full of fun gender reveal ideas.